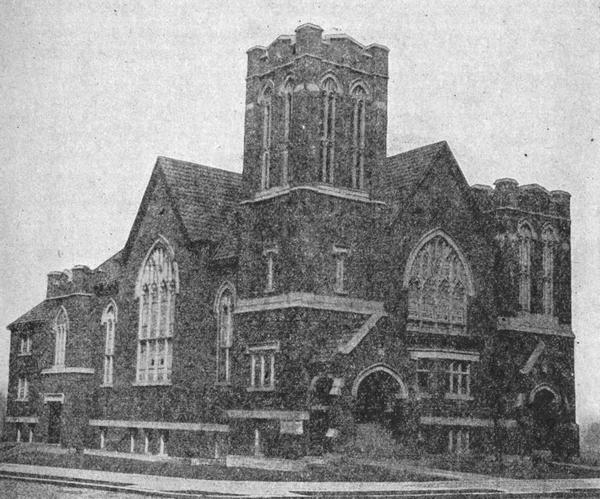 Pekin Grace UMC has a long history dating back to 1826, when Methodist circuit rider Reverend Jesse Walker, visited the first cabin built in Pekin. Nearly twenty years later, a group of German immigrants began to gather in their homes to sing and pray, and in 1848, the German Methodist Episcopal Church was organized. They built their first small frame church in 1850, assisted by the original "English" Methodist congregation which included pews from their earlier church. A larger church followed in 1854, costing $2,728 to build. In 1874, a great Gothic church was finished and dedicated on the church's present site, housing Pekin's first pipe organ. This grand location quickly became a repeat choice to host the annual Methodist conference. A spacious parsonage was later built across the street in 1881.
In 1911, a wind storm, lightning, and fire destroyed the Gothic building. The congregation entered the new (and present) Tudor church in 1912, and changed its name to Grace Methodist Episcopal Church, instead of "German Methodist." The new church included the Hinners organ, custom built by the church's own organist at the choir master's local organ factory. During this time, services also changed from being conducted in German to English.
When did Grace start to expand to be the church it is today?
In 1949, a new parsonage was built and the old one became the Fellowship House. This building was replaced in 1958 by the present education building, which was dedicated as the Joseph A. Mason Christian Education Building on August 30, 1987. In 1968, Grace Methodist became Grace United Methodist Church, and celebrated its 125th anniversary in 1973.
During the 1980s, the church experienced even more growth. The rest of the church block – including Lincoln School – was purchased, assuring room for the parking lot and another parsonage. Time capsules were buried in 1984, and an elevator addition was built in 1986. The church also renovated the inside of the building in 1987, and built the covered south portico entryway in 1988.
In 2013, Pekin Grace UMC expanded once again with the addition of our new Family Life Center. This new building includes new gathering spaces for worship and bible study as well as an all-purpose room featuring a stage, equipped with state-of-the-art sound equipment and video technology. It also houses a full-size gymnasium and features abundant dining space for numerous community meals.    Beautiful new spaces for the children's nursery and early childhood education programs were incorporated into the structure in addition to new administrative office space.
How many pastors have served at Grace?
In 2019, Grace began its ministry with our 50th Lead Pastor, Rev. Eric Swanson.